All-Russian forum of young specialists was held in KFU
15.04.2017
The second All-Russian forum of young professionals "Energy strategy 2030. Trends in the Development of the World Energy Sector" was held April 13-14, 2017 at the Kazan Federal University.
The forum gathered more than 60 people from 15 cities of Russia from St. Petersburg to Irkutsk.
The work of the forum began with a solemn opening, which was attended by the Chairman of the Committee on Ecology, Nature Management, Agricultural and Food Policy of the State Council of the Republic of Tatarstan Takhir khadeev, CEO of Technopark "Idea" Sergey Yushko, the Director of the Center for Energy Saving Technologies of the Republic of Tatartsan under the Cabinet of Ministers of the Republic of Tatarstan Evgeny Martynov and other officials.
On the first day the forum work was held in three sections: "Nuclear power: the future of humanity or a threat to international security?", "The prospects of hydrocarbons as the main source of energy" and "Using renewable energy as a way of protection of the environment", and on the second day there was organized a discussion platform and a lecture hall for the participants.
The organizers of the forum are the Kazan Economic Diplomacy Club, operating on the basis of Institute of International Relations, History and Oriental Studies of KFU and the Student Section of the Society of Petroleum Engineers of KFU (SPE Student Chapter), with the support of the Financial Club of KFU, the Student Society of the University and the Association of Economic Clubs of Russia.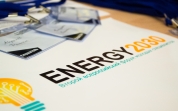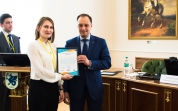 EVENTS CALENDAR