Tatarstan's intellectuals were awarded in Technopark "Idea"
14.03.2017
Today CEO of "Idea", the representative of the Foundation for the Assistance of Innovation in the Republic of Tatarstan Sergey Yushko has awarded winners of "UMNIK" program in Technopark "Idea". A total of 474 young innovators from Tatarstan passed the expert assessment of the jury at the All-Russian stage of the competition.
The program for support of talented youth "Umnik" is designed for young scientists aged from 18 to 30 years, the best of which receive funding in the amount of 500 thousand rubles for two years. For innovators, who successfully defend their projects at the end of two years and are ready to create their own enterprises, the Foundation proposes to participate in the program "Umnik on Start".
Congratulating the winners of the contest, Sergey Yushko wished them move beyond: "Now you have good opportunities, use it: study the experience of Technopark and its residents and apply it in your business. Technopark's doors are always open. I wish you not to stop at what has been achieved, to develop further and to participate in other programs of the Foundation".
It should be noted that in Tatarstan a lot of work is being done with initiative young people. For example, a School of the Young Innovator - interuniversity training project to the program "UMNIK" - operates on the basis of Innovative Development Management of Kazan (Volga region) Federal University
The participants of the School can be students, postgraduates, teachers and researchers of the universities of the Republic of Tatarstan.
In the course of free training at the School, students receive professional skills in the field of patenting of intellectual property, marketing analysis, preparation of financial and production plan, presentation skills, and learn about the ways of financing projects through competitions and grants. The result of training is the prepared application for the contest "UMNIK".
The School's work is also aimed at preparing for other programs and competitions, for example, "The 50 best Innovative Ideas of Republic of Tatarstan" of the Investment and Venture Fund of the Republic of Tatarstan.
You can apply for education in the School by phone: (843) 233-72-55, e-mail: uirkfu@mail.ru or at the address: 27/2, Pushkina Str.
In 2017 the School's work is scheduled for September.
Photo report from the award ceremony here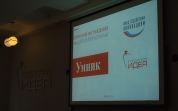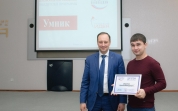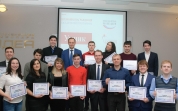 EVENTS CALENDAR