An agreement on cooperation between Technopark "Idea" and Technopark of High Technologies of Yugra has been signed
21.09.2017
In order to implement the Agreement, the parties will provide assistance to residents of the sites in the development and implementation of innovative proposals, scientific and technical projects and programs aimed at creating science-intensive technologies and competitive products in the field of new materials and nanotechnologies in the Siberian region and Tatarstan.
Within the framework of cooperation, the parties will facilitate the transfer of technology from university and academic sectors of science to the industrial sector in order to build a partnership between the public and private sectors of the economy.
Recall that the interaction between Technopark "Idea" and Technopark of High Technologies of Ugra was the entry point of the innovation infrastructure of the Khanty-Mansi Autonomous Area into the European Business & Innovation Centre Network (EBN). With the support of Technopark "Idea" and participation in the accreditation the High-Technology Park Yugra became a full member of the European network, confirming compliance with the European quality standards with the appropriate certificate.
To join the Association Technopark of Yugra has passed through several stages of accreditation, including the audit, which took place in October 2014. Experts from the Association were Eeva Pihlayaneimi (Finland) and Sergey Yushko (Russia). As part of the audit, the main activities of the Technopark of High Technologies of Ugra and key performance indicators were presented. The auditors highly evaluated all the criteria of the Technopark's work, the main of which are: mission, quality, provided services and organization of processes. As a result, the European Business & Innovation Centre Network approved the full membership of Technopark of Ugra.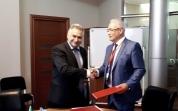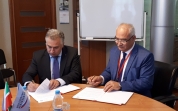 EVENTS CALENDAR